Summary
Comparing then with now.
I stumbled across this blogpost which nails it. Same stuff, different year. Commentators moaning about exam standards not being as tough as they were in the good ol' days.
Back in the mid-1990s I was ambushed by BBC Radio Cambridgeshire about 5 seconds after opening my results envelope. I was trembling, clutching a slip that told me I'd scored all As or Bs. In the grand scheme of things, this was the biggest deal in my life up until then. I can't recall having worked for anything as hard as those exams. With hindsight, the only thing I ever really threw the kitchen sink plus more at was my civil service fast stream application – which like my GCSEs I was successful in, in that it got me to the next stage of life as hoped.
'Aww! My followers just got their results!!!'
A number of long-time Twitter followers received their A-level and GCSE results recently. As you can imagine, many of them are absolutely buzzing – and quite possibly as drunk as I was this time all those years ago. Funnily enough I'm going to be filming three of them as they perform more musical masterpieces in and around Cambridge in the next few days.
Now is not the time to talk about falling exam standards
It really isn't. It's not censorship. It's self-discipline and tact. I remember during my university days a Guardian journalist trying to work out how easy A-level sociology was by enrolling himself to take the exam on deadline day and revising for six weeks before doing the exam and getting an A in it. He was subsequently ripped to pieces for not checking his privilege – in particular:
Being older & more educated than nearly all of the other people taking the exam – he had a university degree which most 18 year olds don't have
Only taking one exam, not the three or four that other candidates took
Not having the pressure of taking an exam as if your future depended on it
I found out the difference during my year out between college and university, when I did A-level history in an evening class. With my university place secured, I positively enjoyed the exam – something that could not be said for my compatriots in the hall. But because I had been where they were the previous year, it wasn't something to be all cocky about. Rather it was a case of 'I know how you feel'.
Collective success vs individual success
Perhaps the difference between GCSE result and the Fast Stream was the latter was a collective celebration, whereas the latter was an individual one. In the grand scheme of things, the talents and successes of young people are criticised more than celebrated. If it were the latter, the political establishment wouldn't be putting so many barriers in the way of that talent and potential being realised. It's not just tuition fees but the burden of training and education generally being shifted from employer and state to individuals – at a time where there are fewer 'jobs for life' and re-training is now par for the course.
Adults in the wider community have a responsibility to help young people reach their potential
Looking back, one of the things that was never really apparent during my college – or even university years was the desire of the older adults in the wider community around me to take an active interest in my progress (or otherwise) in those years. Certainly not more than any box-ticking system required. The impact probably changed not only the results I got at A-level, but my choice of university and subject too. And inevitably career path. That said, given my health disposition there is every chance I'd have ended up back where I currently am even if I had followed the 'life on a piece of paper' path.
This is where organisations such as the Cambridge Area Partnership come in. I'm particularly interested in the way institutions function. The problem I've found over the past couple of years is that when it's one person jumping up and down, institutions don't listen. It's only when you get other people involved and put pressure from multiple directions that they start shifting. The other thing I've found is continually evaluating and adjusting your approach also keeps institutions on their toes. 2014 has been a case in point as far as my actions are concerned. Almost outspokenly assertive early on in the year, I made my point by unexpectedly standing for election as Puffles. The result of that was repeatedly raising issues that helped influence local democracy and local policies.
Having 'banked' that, I've switched approach again. Once you've stood for election, you know what it involves. Standing for election again is less of a big issue second time around. Although I don't want to do it in 2015, it's not something I've entirely ruled out. It depends on progress on the issues I care about. My current approach is about setting an example by doing. This ranges from being a community reporter for Shape Your Place (see an example here) to organising events such as the repeatedly-mentioned Be the Change – Cambridge. To see how far we've progressed, have a look at the sponsors we've signed up here.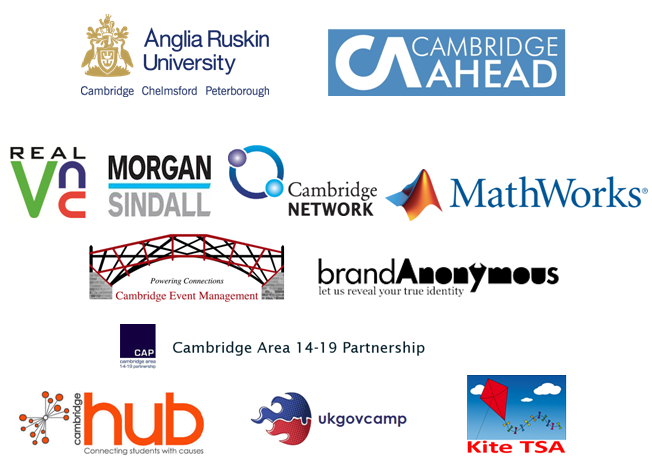 Significant progress? I'd like to think so
What's really good to hear from the sponsors I have spoken to is the importance of young people to the city. That's one of the big reasons why they are getting involved. A generation ago, such an event like this would not have happened. It really wouldn't have. The problem then was the mindset of the institutions. This is something that is slowly beginning to change, but only because a critical mass of people challenging that culture is now forming. Not only that, we have the tools, technology and networks to bypass hierarchical and archaic structures that otherwise get in the way. That combined with enough people from diverse backgrounds who are persisting with the pressure.
A very long way to go
I spent much of 2013/14 being rebuffed and ignored by a number of local further education establishments on community outreach. Emails ignored, follow-ups not taken forward – that sort of thing. Hence switching approach and going through local council committees, repeatedly following up actions. For example in Cambridge in the 'open forum' items:
Although the minutes have not been published, the new Chair of the Committee Cllr Sue Birtles has said with one of the institutions, she's going to make a spot visit because 9 months of being ignored is now in my book a contempt for democracy. I put this point to the full council in June 2014 in 'Public Question Time'.
Furthermore in Cambridge in the open forum items…
The great thing about East Area is that we've had significant progress with Parkside Coleridge School. Cambridge City Council and ward councillors are now much more engaged with the school, and are visiting more frequently and doing a greater variety of citizenship-related activities than before. I spoke with the head of Coleridge, Bev Jones not long after the GCSE result were released. She was glowing with pride – and with good reason given the challenges Coleridge has faced over the years.
We've shown a glimpse of what we can achieve if we take responsibility for each other
This is the 'be the change' approach. We're asking people 'what can you do to make the change?' rather than 'Can you give a list of reasons why you can't do anything?' Hence the challenge at the end of our event ("Buy tickets here!!!") is for people to make a small behaviour change or commit to one small one-off action. Because if over 200 people do that all around the same, the impact could be just enough to create a momentum that's unstoppable.